How much space is there in our food?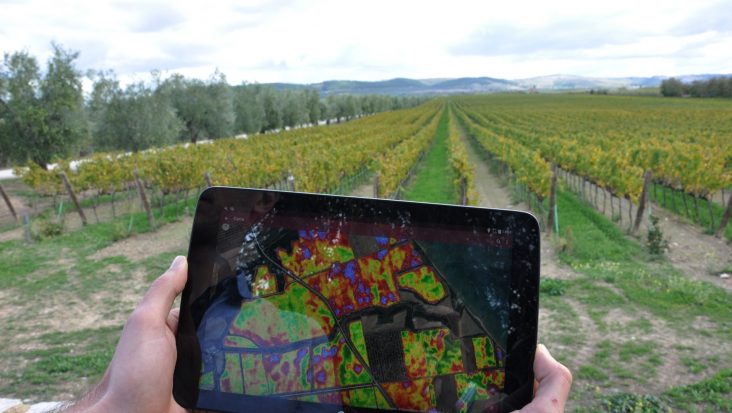 In Italy, we all have an uncle, a brother, a neighbour or any other relative who wants us to taste their own produced wine or oil. Every year, in Planetek my colleagues challenge each other by bringing their own olive oil to the company, filling the canteen with bread and oil tastings.
Cuisine is one of the factors that define a country, and along with art and landscapes, it is the typical product that one looks for and wants to try when visiting any place. European cuisines have been based on local products for centuries, and today the famous Mediterranean diet has been declared an Intangible Cultural Heritage of Humanity.
It is no coincidence that the European Union is the largest producer, consumer and exporter of olive oil, for example, producing around 67% of the world's olive oil and the world's largest producer of wine with an average annual production of 165 million hectolitres.
But what does food have to do with space?
Although this growth looks promising, the food industry now faces serious challenges related to climate change and market changes. There is a move towards more organic and sustainable agriculture and aquaculture, encouraging and forcing producers to adopt new practices and techniques to meet global demand while preserving the environment and achieving the several SDGs planned by the EU.
Copernicus, the European Union's flagship Earth observation programme, is essential for monitoring agricultural fields and fish farms in order to optimise and make their activities more sustainable. Together with high-resolution data enabling us to observe new scenarios in food production, Copernicus services developed by Copernicus ECMWF help the agro-forestry sector predict how these changes will affect crop yields and, ultimately, the return on investment.
Satellite monitoring is thus essential:
to keep track of trends and agricultural evolutions;
to make forecasts, to observe soil fertility, crop vigour and chlorophyll quantity;
to observe water stress, the presence of water or pollutants in a field and the changes that occur due to climate change, variations in production techniques, and market demand.
Harvesting at the right time
Precision agriculture and Precise aquaculture mean doing the right thing at the right time and combining environmental and economic sustainability. Therefore, while the objective is to increase the quality of agricultural production by using fewer inputs (water, energy, fertilisers, plant protection), it is also essential to increase yields, reduce expenses, and increase companies' competitiveness and environmental sustainability.
For several years now, maps of vegetative vigour have been produced, allowing us to optimise and select grapes to improve harvesting and better organise the production cycle.
Space-supported production efficiency goes from the glass to the plate. As Italians, we love our spaghetti with mussels, and we don't imagine that the farms are watched over, especially from space.
As Planetek, we made this possible and we are currently providing information directly to farmers.
Would you like to learn more or give us your comment?
Read on: Join "Earth from Space" newsletter on LinkedIn