Take up arms against Xylella with Remote Sensing of Olive Trees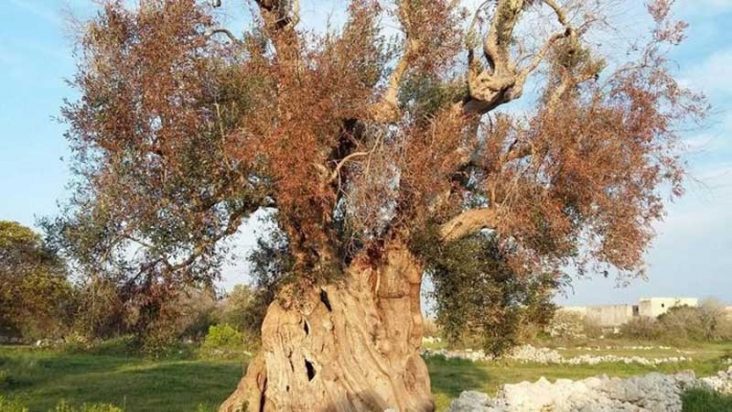 The Italian olive sector generates a turnover of over 1.2 billion Euros (source ISMEA 2016), with around 820,000 olive farms and over 1 million hectares of olive groves under cultivation. Puglia region produces over 50% of the Italian production, followed by Calabria and Sicily.
The olive sector is threatened today by the presence of the Xylella fastidiosa, which causes the drying of olive trees (Complex of rapid drying of the olive tree – Codiro Technologies).
Remote sensing techniques from aircraft, drones, and land can significantly contribute to the survey of large areas, such as an entire region, and of individual plants or portions of them to identify infections before drying out phenomena appear.
Where is Xylella disease?
The leading olive producers in the world are Spain, Italy, Greece, Turkey, and Tunisia. It is no coincidence that the European Union is the largest producer, consumer, and exporter of olive oil producing around 67% of the world's olive oil.
In the 2018/9 olive campaign, the Xylella disease caused a 90% reduction in production in some areas of Puglia, Italy. The pathogen is currently confined to the Apulian area. Still, infection outbreaks occur in other areas and European countries, such as France, Spain, and Germany.
To counteract the damage of this pathogen, which can infect a multiplicity of species of arboreal and herbaceous plants and which is carried from an insect commonly called "Sputacchina", it is possible to implement different strategies: the selection of resistant plant varieties such as the Leccino variety, the fight against the vector to reduce the propagation of the disease and the early detection of infection hotspots for the activation of agronomic practices of containment.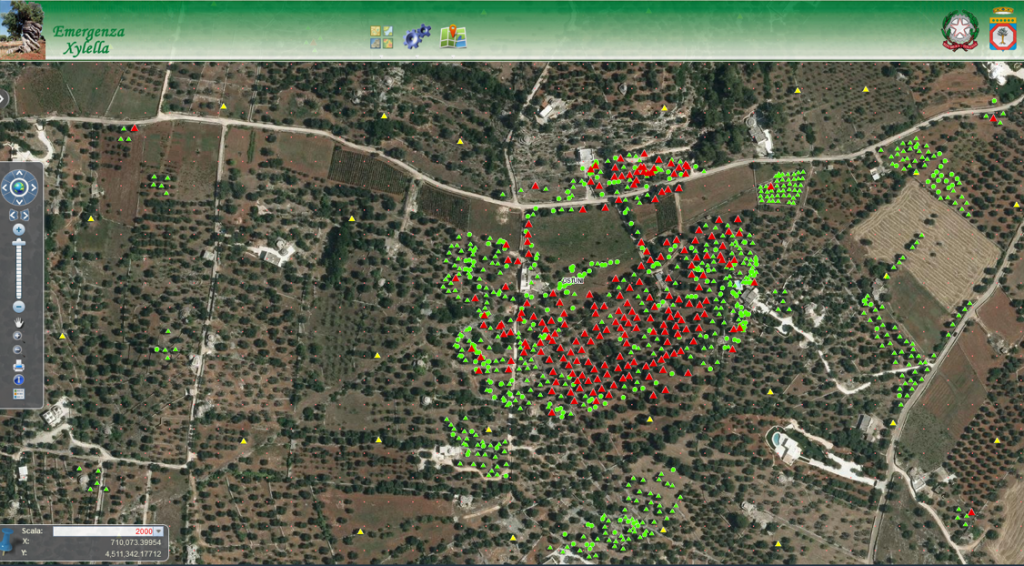 What can Earth Observation do?
Several research and project have demonstrated that satellite monitoring is a valuable technology in the fight against Xylella fastidiosa, as it allows early detection of the infection and more effective prevention of its spread.
Satellite monitoring can help to map the extent of the infection in a specific geographical area and monitor the evolution of the disease over time, allowing the adoption of timely control strategies.
Thanks to the #FIXYLL – FIght XYLeLla fastidiosa project funded by the Agenzia Spaziale Italiana and implemented by Planetek Italia and DTA Distretto Tecnologico Aerospaziale in collaboration with Unaprol, a series of satellite monitoring services are being developed that would allow:
The identification of vigorous olive trees;
Graphic visualization of the dynamics of infection spread;
Verification of the application of regional prescriptions and second-level validation of explanted plants.
Read on to learn more about the services Earth Observation can offer to support olive trees and the agriculture sector.
Discover more on planetek website's application page.
Read on: Join "Earth from Space" newsletter on LinkedIn